Learning Center
Fall 2019 Training Requirements:
All DRDP (2015) special education assessors must complete two online training courses by December 31, 2019:
Using the DRDP (2015) for Special Education

New for 2019-20: Using DRDP (2015) Reports for Special Education
Instructions:
You must complete the first course before taking the second. If you completed the first course in 2018-19, you will be automatically registered for the second course.
You must complete both courses by December 31, 2019 (assessors hired after the fall assessment period have until May 31, 2020).
If you do not have a DRAccessLearn account, (formerly "The Learning Center"), create one at draccesslearn.org.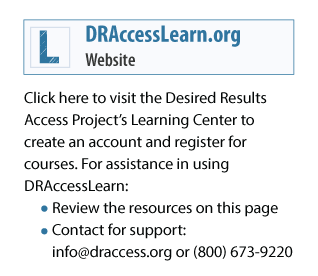 This guide offers helpful suggestions for successfully completing the online courses.
For more information
If you are a general education preschool teacher, Early Head Start, or Head Start teacher, please visit the Desired Results for Children and Families website, for information about training to use the DRDP (2015):
www.desiredresults.us/scheduled-training