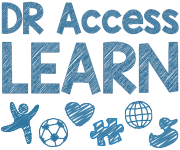 The California Department of Education, Special Education Division requires DRDP training for all early childhood special educators who assess children with the DRDP. SELPAs are responsible for ensuring that all staff who administer the DRDP complete training.
If you are a new DRDP assessor:
All courses are provided in the Desired Results Access Project's Learning Center, DRAccessLearn.org.
Create an account in DRAccessLearn.org. Download the User's Guide if you need assistance.
Start by completing the first course, "Using the DRDP (2015) for Special Education" (including the Demonstration of Rating Skills) and then complete the second course, "Benny Having a Snack."
Once you complete the first course, you will automatically be enrolled in the next course.
Stay current with courses that are required in the future.
If you are a continuing DRDP assessor:
Make sure you are up to date. You should have completed:

"Using the DRDP (2015) for Special Education"
"Benny Having a Snack"
If you have not done so, please complete these courses this fall.
All assessors should complete the DRDP for eligible children even if their courses are not yet completed.
SELPA Directors will continue to receive reports of those assessors who successfully completed courses in the Learning Center.